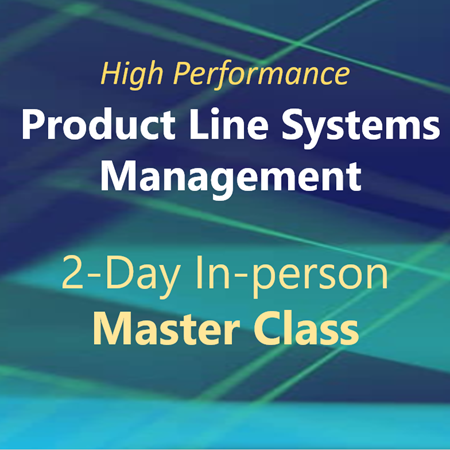 In-Person November 29-30, 2023
Ponte Vedra Beach, FL
(near Jacksonville, FL)
Registration Fee is based on the number of people attending from a company.
| | | |
| --- | --- | --- |
| 1st Person | $2535USD | |
| 2nd – 4th Person | $2395USD | |
| 5+ Person | $2095USD | |
10 % Discount Before November 3, 2023
---
This important Master Class delivers a full understanding of how to ramp up the performance of any product line. You'll learn the keys to high-performance product line systems management, innovation, and product development within mid and large-sized companies.
Participants learn how to improve and deliver powerful strategies quickly and successfully. Topics include:
Purposefully positioning: Against Competition and for Greater Customer Satisfaction
Influencing proximate outcome emergence
Focusing functional Roles and Responsibilities to maximize product line gains
Building Resilient and Responsive Roadmapping capabilities
Targeting Impactful Innovations… not screening ideas to find innovations.
Amplifying the Interplay of System Parts and Agents
Workshop leaders keep a sharp focus on how companies build capabilities and  gain benefits rapidly. The workshop teaches why and how.
Multi-Product Systems Thinking Trounces Traditional Single Product Thinking
By attending, you'll learn how to build and carry out powerful product line strategies. Through discussions, examples, and cases, the workshop explores and clarifies:
| | | |
| --- | --- | --- |
| Platform-levers | Jobs-to-be-Done (Verb-base) Segmentation | Attribute Positioning |
| Governance | Strategy Moves, Pivots, and Recasts | Innovation Charters |
| Strategy-Essence | Cross-Organization (Chain-Link) Alignment | Responsive  Roadmapping |
Participants come from B2B and B2C companies in high-tech to low-tech industries. You'll find participants representing many product lines. Some product lines have long life cycles, others short. Some lines are product-oriented, others service-oriented. And some product lines are specialty-like, others commodity-oriented. No matter, the principles of product line as systems and good strategy apply.
Join us to learn how to:
Create Good Strategies and Avoid Poor Strategies
Integrate Top-down Business Strategy with your Product Line Strategy
Identify and Overcome Strategy Bottleneck (seldom about resource limits)
Surpass the limitations of Project and Product Portfolio Management
Define Superior Platform-levers and System Archetypes
Target Innovations and Strategic Moves to Maximize your Product Line Velocity
Roadmap Strategic Moves via Platform-levers, Engineered Attribute Positioning, and Technology Building Blocks
---
November 29-30, 2023 Ponte Vedra Beach, FL (near Jacksonville)
This Master Class is limited to 16 attendees.
Check out early registration discounts if available
Please email: masterclass @ adept-plm.com
| | | |
| --- | --- | --- |
| 1st Person | $2535USD | |
| 2nd – 4th Person | $2395USD | |
| 5+ Person | $2095USD | |
10 % Discount Before November 3, 2023
https://adept-plm.com/wp-content/uploads/PLSM-Masterclass-Logo.png
450
450
Paul O'Connor
https://adept-plm.com/adLogoColor_tagline_d.svg
Paul O'Connor
2023-10-28 22:30:31
2023-10-29 15:39:26
Product Line Systems Management
2-Day Master Class
29-30 November 2023